OK.. I haven't scrapped these pictures yet but they were too cute I had to post them. I did make Lana's card with the pictures from Wilderness Park on Friday. The main picture of her card is with Lana and the tree that she climbed all by herself and slide down on when she tried to climb higher. It was also the tree that once she got to a point Savvy and Michael took off to get tree sap ...
(You can see the card on July 10th posting)
Then on Monday! The 8 of us had a mini get-together for Lana's birthday since she is going to vegas to visit Grandma Yolonda. And then Kevin had to steal the spot-light with his big head.
and then the cutting of the cake... She didnt want me to take her picture cutting the cake. Listen to Kevin's special effects and then Fred and Bean acting like kids at the end. Love you Bean and Fred!
Out of all the pictures, this is my favorite picture of all of us hanging on Kevin! It was cute.... Kevin is such a good person I hate that he has to grow up to fast to be watch Michael and Lana. But he is a good person to do that .. I raised him right. and Bean turned into a good girl too. I am glad that Kevin & Bean are close in age so they are able to hang out and grow up together. OK getting a little sappy now.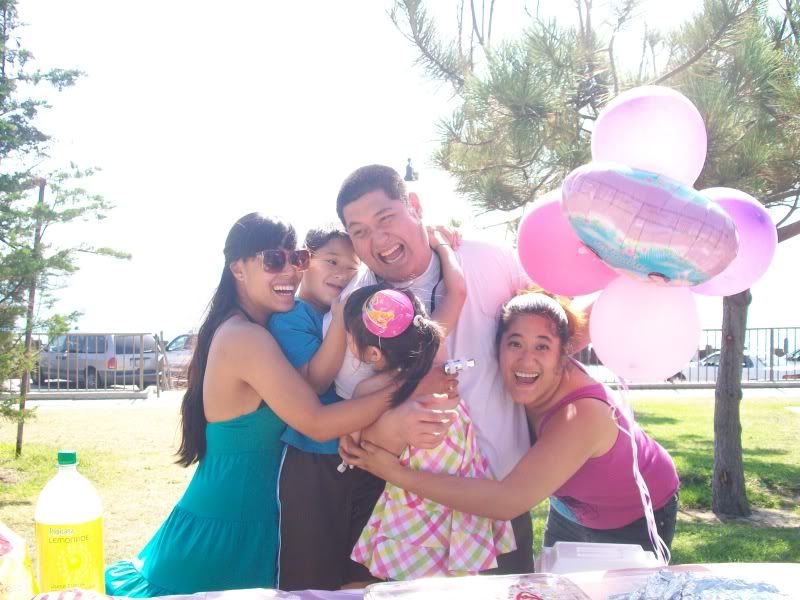 I can't make it to Lana's dinner tonight because I have an urgent project due by the end of day! I would love to eat KP Shimp. Anyways I hope she has a good bday dinner.
HAPPY BIRTHDAY LANA... This is the birthday picture with the cake. This is the cake Kevin that baked ... She looks like my mom in this picture! Its too cute.. Lana does not look like her parents ... she looks like my mommy!
7/10 Update: Joy, I am not trying to start crap with you at all. I was pointing out that in this picture she looks like my MOM. I take that back, Lana doesn't look like anyone but Lana. On Monday, when we had a little get together it was a observation to me. The kids wanted to go to the beach so Kevin etc took them to the beach.. we added a cake and balloons since we were unable to have a party since you already made plans to goto Vegas for her bday per your email. Then we wanted to plan a combo party to celebrate my bday with Lana but we all have other plans and it's too late to send inviations to the rest of the cousins. I am simply saying Happy Bday to Lana with her cake picture. You are making this a big deal.